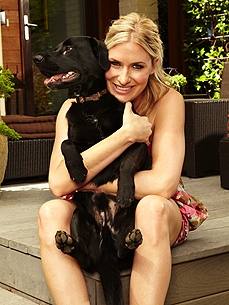 Artist & song writer Holly Williams is from a famous family that has not only captured my attention but deserves it. The daughter & grand daughter of Hank Williams Jr & Sr.
Holly's current album "The Highway" is getting a lot of attention and rightly so. Holly self-financed the album and released it independently but this doesn't mean she was by herself. Throughout the process, the Nashville-based songwriter was surrounded by a talented & supporting cast, including co-producer Charlie Peacock (The Civil Wars), her multi-instrumentalist husband Chris Coleman, bassist Glenn Worff (Mark Knopfler), pedal steel guru Dan Dugmore (James Taylor, Stevie Nicks), and friends like Dierks Bentley, Jakob Dylan, Jackson Browne and Gwyneth Paltrow who all make guest appearances on the record.
Two of my favorite songs on the album are (1) Drinkin and (2) A Good Man. The album is definitely worth the spend $$$! You'll find that you'll go to it time and time again as its that good.
Holly and her band are currently touring so be sure to catch a show or two. If you do you'll be treating yourself very well.
Be sure to follow Holly on Twitter @hollywilliams1 and visit her web site at http://www.hollywilliams.com/music/ You won't be disappointed in what you hear as I give the album FIVE STARS*****